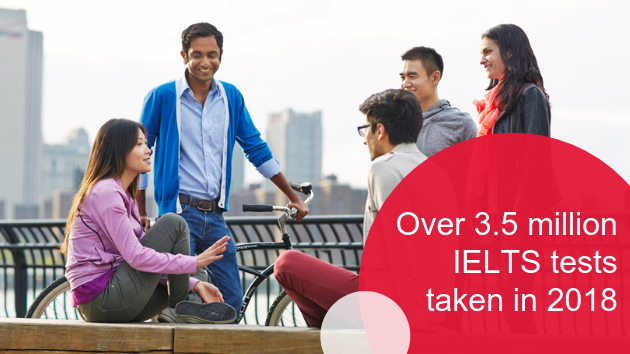 The internationalisation of higher education and an increasingly mobile international workforce migration continues to drive demand for IELTS – the world's leading test of English for international migration and higher education. The number of IELTS tests grew to a record 3.5 million in 2018.
IELTS plays a leading role in international higher education. It is recognised for entrance to universities and colleges across the English-speaking world, including 100% of universities in Australia and the United Kingdom, more than 3,400 institutions in the United States as well as hundreds of institutions in many other countries. It is also the most widely used test for visa and citizenship purposes in Australia, Canada, New Zealand and the United Kingdom.
Introduced in 1989, IELTS has built its worldwide reputation on a combination of secure reliable testing backed by extensive research to ensure that it meets the needs of users across a wide range of sectors including higher education institutions, government departments, healthcare regulators and employers.
An IELTS test result demonstrates not just a passive knowledge of English, but also the ability to use the language effectively in a variety of real-world contexts, and the language skills need for success in higher education, professional contexts and everyday life in English-speaking countries.
Equally important is the global availability of IELTS at over 1,200 test centres in more than 140 countries and territories. Test availability increased last year with the global roll-out of computer-delivered IELTS.
Warwick Freeland, Managing Director – IELTS, IDP Education, said 2018 was a milestone year for IELTS, "Last year we introduced IELTS on computer in over 20 countries and territories around the world, which has seen us increase our testing dates from two days a week to up to seven days a week," Mr Freeland said.
"We are committed to giving test takers more opportunities to choose the test time and format that positions them to achieve their goals," he said.
James Shipton, Head IELTS, British Council, said: "3.5 million tests taken last year is a testament to the ongoing value and trust placed in IELTS by our partners and test takers around the world. IELTS continues to provide a gateway for people to fulfil their aspirations and behind these test numbers are the personal stories of test takers who have gained entrance to their target university, of individuals who have been able to kickstart their career, and of others who have been able to make their dream move to a life in a new country."
IELTS is owned and run jointly by the British Council, IDP: IELTS Australia and Cambridge Assessment English.
International English Language Testing System (IELTS)
IELTS is the International English Language Testing System, the world's most popular English language proficiency test for higher education and global migration with over 3.5 million tests taken in the last year. Over 10,000 organisations trust and accept IELTS as a secure, valid and reliable indicator of true to life ability to communicate in English for education, immigration and professional accreditation. IELTS is jointly owned by the British Council, IDP: IELTS Australia and Cambridge English Language Assessment.
The British Council is the United Kingdom's international organisation for education and cultural relations. Dedicated to building trust through the exchange of knowledge between people worldwide, the British Council is represented in over 100 countries.
About the test
Test takers are measured in listening, reading, writing and speaking. All tests are scored on a banded system from 1 (the lowest) through to 9 (the highest band).
IELTS offers a choice of two test versions, to serve both academic and non-academic purposes. IELTS Academic measures English language proficiency needed for an academic, higher learning environment. The tasks and texts are accessible to all test takers, irrespective of their subject focus. IELTS General Training measures English language proficiency in a practical, everyday context. The tasks and texts reflect both workplace and social situations. IELTS General Training is suitable for immigration purposes to Australia, Canada, New Zealand and the United Kingdom and Ireland.
A sample of government and professional associations who recognise or require applicants to hold an IELTS test result include:
Citizenship and Immigration Canada 
Australian Department of Immigration and Border Protection 
UK Visas and Immigration 
Commission on Graduates of Foreign Nursing Schools and National Council of State Boards of Nursing, USA
International Monetary Fund