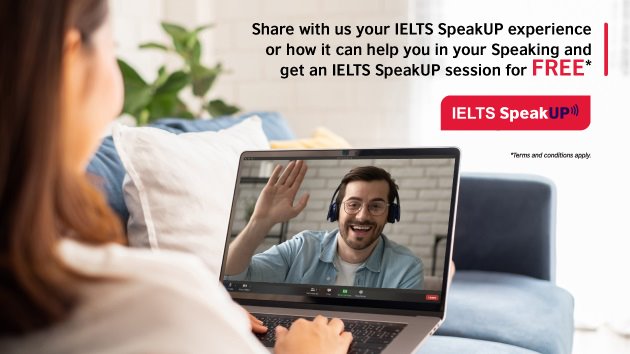 What is IELTS SpeakUP?
IELTS SpeakUP is an IELTS speaking practice opportunity developed and delivered by the British Council, a co-owner of IELTS. IELTS SpeakUP includes a one-on-one IELTS practice test with individual feedback and recommendations delivered by our IELTS experts to help you reach your target IELTS score.
IELTS SpeakUP is delivered online and lasts 30 minutes. Once you have shared your target score goal, you will take an IELTS practice test and then receive expert feedback. Although you will not receive a score on your performance, you will be given learning objectives to help you reach your target score based on the IELTS band descriptors, and the opportunity to ask our experts any questions you have about the speaking test.
Now you can get an IELTS SpeakUP session (worth HK$299) for FREE.
Just tell us why you need IELTS SpeakUP and how it can help you with your speaking test. If you've already tried IELTS SpeakUP, let us know what you like about it and how it has helped you.
Share your answer on your social media page together with a photo/ video related to your answer 
Tag IELTS British Council Singapore Facebook page and hashtag #IELTSSpeakUP 
Submit your details here to redeem your free IELTS SpeakUP voucher: https://forms.office.com/r/skcyrZA0ek
Submission closes on 15 October 2021.
Why IELTS SpeakUP?
A fully authentic IELTS speaking interview. Delivered by an IELTS expert, IELTS SpeakUP is designed to accurately reflect the live IELTS test and give you the best possible practice experience.
Expert guidance from the British Council, a co-owner of IELTS. With years of experience in language teaching and assessment and an in-depth knowledge of the IELTS test, IELTS SpeakUP experts are managed by the British Council using the same quality framework that assures the IELTS speaking test.
Tailored feedback and learning objectives. IELTS SpeakUP provides targeted feedback on your spoken English performance and recommendations to help you achieve your target score.
Ask our expert your burning questions about the IELTS speaking test.
What our test takers say about IELTS SpeakUP
"My British Council IELTS expert spoke to me using simpler English which I could easily understand, and offered me lots of useful and relevant advice." - British Council IELTS test taker, Korea
"IELTS SpeakUP is so practical! I can practise with a British Council IELTS expert and get personalised feedback on my speaking." - British Council IELTS test taker, Philippines
"After joining an IELTS SpeakUP session, I feel my speaking has improved. I am motivated to join more sessions." - British Council IELTS test taker, Indonesia
IELTS SpeakUP is delivered online and one 30-minute SpeakUP session with an IELTS expert costs HK$299 
(Original price at 

HK$399). 

 

Terms and conditions:
IELTS SpeakUP free voucher redemption is only applicable for users who have shared their IELTS SpeakUP experience with the British Council during the promotion period. 
Users who are redeeming the IELTS SpeakUP free vouchers shall be deemed to have accepted these Terms and Conditions.   
All voucher redemptions can only be redeemed once per person and are on a first-come, first-served basis and strictly while stocks last.  
The voucher is non-exchangeable, non-transferable, and is not redeemable for cash or other prizes.   
The British Council reserves the sole and absolute right to withdraw, amend and/or alter any part of the whole terms and conditions in relation to this promotion at any time without giving any prior notice to the test takers and the test takers agree to be bound by those changes.  
The British Council shall not be liable for any claims by the test takers or third-party claims or loses of any nature, including but not limited to, loss of profits, punitive, indirect, special, incidental, or consequential damages or for other damages and any related claims of any nature, including direct, indirect, third-part, consequential or other damages resulting from or in connection with this promotion.  
In case of disputes, the decision of the British Council shall be final and conclusive.  
Watch the user guide videos to learn how to register, get started, and check out the format of your session:
Registration
How to Get Started (Windows users)
How to Get Started (Other users)
Session Experience