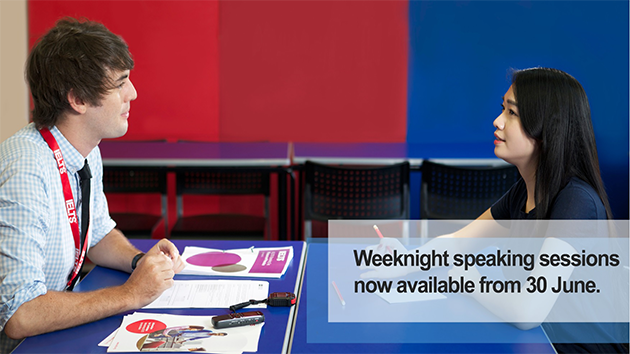 Planning to take IELTS? 
Weeknight speaking sessions now available
from 30 June.

Taking IELTS opens doors – it can help you live, study and work around the world. More than 10,000 organisations worldwide accept IELTS, including government bodies, employers and academic institutions.
British Council Singapore will be offering evening speaking test sessions on weekdays to provide convenience for our test takers. Here are just a few other reasons why millions of people have taken IELTS with the British Council:  
Expert Support: From videos and books to online interactive courses, you have access to the best preparation materials to help you do well in your test
Free Resources: Road to IELTS is the British Council's popular online preparation course. When you register for an IELTS test with us you also get access to 30 hours of free training.
Convenient Locations: Flexible selection of test location and convenient test venues with excellent services.
Easy Booking: You can book your IELTS test online and take advantage of flexible payment options in Singapore dollars.
Fast Results: We guarantee you will be able to see your results online within just 13 days of the date you take your test. 
Special Arrangements: Your English language ability will be assessed objectively, regardless of any disability or special needs that you may have. Find out more about how we can facilitate your special arrangements. Please note that you will need a medical certificate issued within the last two years at the time of registration.