Planning on taking IELTS for UKVI? We have an exclusive offer for test takers who book their IELTS for UKVI test with British Council. If you book by 31 December 2020, you will get free access to GEL IELTS Prep - our brand new IELTS for UKVI preparation package, valued up to SGD 88.
GEL stands for Guided E-Learning. With these materials, you will understand, prepare and plan your IELTS readiness more effectively.
What's included?
Videos to help you understand how the test works
Computer-delivered familiarisation test
Practice tests - unlimited time and control over audio playback
Mock tests - practise taking the test under strict test conditions
Exercises to help you practice your Reading, Listening, Writing and Speaking skills
Model answers for Writing 40 full tests (25 Academic, 15 General Training)
Comprehensive feedback on all reading & listening answers
Ability to track your progress toward your target band score
*The option of comprehensive feedback on writing & speaking will be available separately later.
Once you have registered for IELTS for UKVI, you will be able to access the GEL IELTS Prep package directly after you login to the test taker registration portal – the details will also be included in the UKVI booking confirmation sent by British Council IELTS.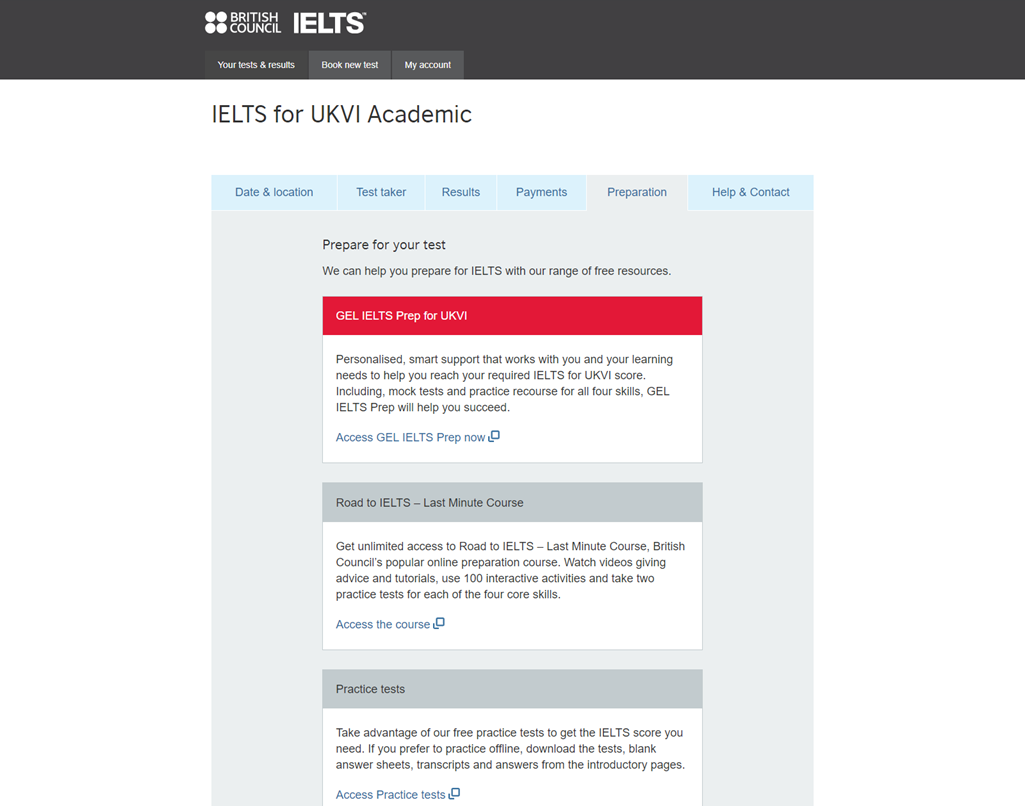 Book now with British Council and you will also receive:
Road to IELTS Last Minute course – This includes nine videos giving advice and tutorials, 100 interactive activities and two practice tests for each of the four skills.
IELTS WordReady – an online resource delivering vocabulary training to help you prepare for your IELTS test
Free webinar on preparation tips – follow our Facebook page to find out more
Convenient dates and locations – we have multiple test locations in countries all around the world. There are more than 800 official British Council IELTS test centres, all of which are conveniently located and have modern facilities
Five extra Test Report Forms for free – we send these free of charge to institutions you're applying to (e.g. immigration offices, universities, etc.)