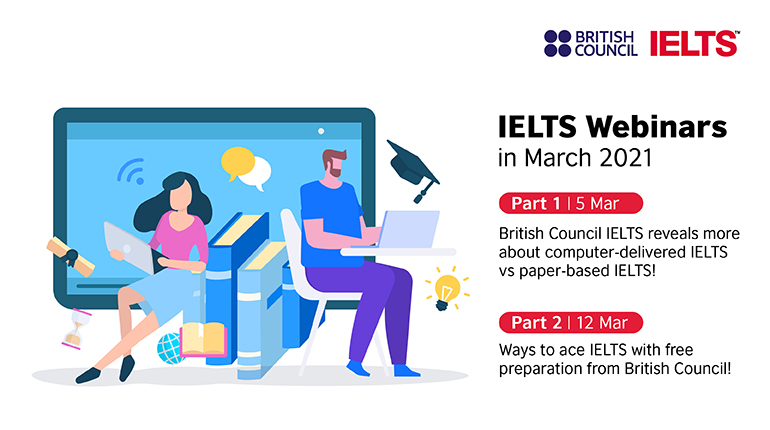 Are you planning to take the IELTS test soon? Or just wanted to find out more about how IELTS can be your passport to further your dreams? Come join us in our FREE monthly 2-part webinars where you can learn more about IELTS and discover the important FREE preparation materials from the British Council you can use.
Webinar Schedule:
5 March at 3-4.30 pm - British Council IELTS reveals more about computer-delivered IELTS vs paper-based IELTS! (Part 1)
Cover the popular and fresh IELTS topics and information and provide information on the different IELTS test formats (paper-based and computer-delivered versions), type of questions, test-taking tips and techniques, especially about the different features of the computer-delivered IELTS! If you are looking for an overview of IELTS and in-depth information on computer-delivered IELTS, this webinar is right for you!
12 March at 3-4.30 pm - Ways to ace IELTS with free preparation from British Council! (Part 2)
In this webinar, we will walk you through one of our popular FREE preparation materials – The Road to IELTS, when you register your IELTS with the British Council. The Road to IELTS includes 30 to 300 interactive exercises, 4 to 13 advice videos from the British Council experts, hints and tips on question types, study planner and study guides, and as many as 36 downloadable practice tests. We show you how to best use of these FREE materials and navigate through the Road to IELTS online portal. That's not all, we will also bring you through all the other FREE preparation materials from the British Council, such as the IELTS Study Planner, IELTS Prep App, downloadable practice papers and many more! This is the secret of how our test takers get their desired IELTS result from study tips to improve their English!