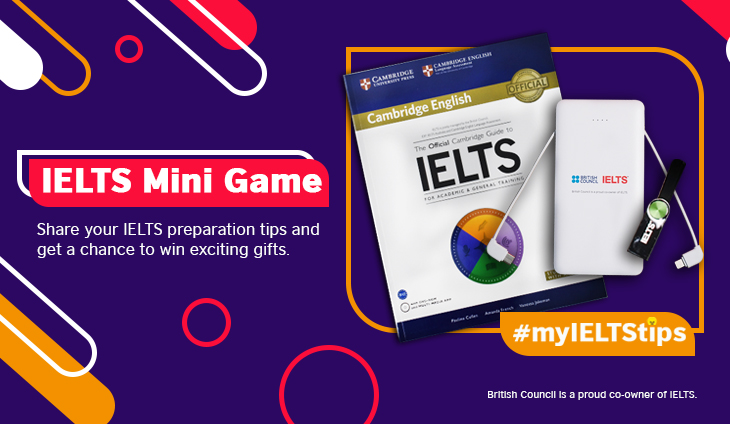 Join #myIELTStips Mini Game and get a chance to win one of five British Council IELTS Prep gift set. Submit your IELTS tips to us and have your family and friends vote for it on our Facebook page through likes,  and shares. Extended until 15 October 2020.
Mini game mechanics:
1. Submit you IELTS preparation tip in 50 to 150 words along with a photo that best describes your suggested tip or a photo of you preparing for the IELTS.
Photo specification - Photo should have an aspect ration of 1:1 (square photo)  with at least 1200 x 1200px size (should not be less than 1MB)

Submission - Email the text and photo to PH_ManilaMarketing@britishcouncil.org.  In the subject line, put '#myIELTStips - Full Name'
Deadline - All submissions must be sent until 23:00 of 15 October 2020.

Photos submitted must be owned by sender and should not infringe any copyright laws. 
2. Valid photos and text (those within specification and word limit) will be posted on IELTS British Council Facebook page within 3 days upon receipt of materials.  British Council staff will inform sender if entry has been selected for posting by sending them the link to their post through email. Share the link of your #myIELTStips entry on IELTS British Council Facebook page and have your family and friends like, comment and share it. All likes, comments and shares should be done before 23:00 of 20 October 2020.
3. Five entries with the highest number of likes, comments and shares will be awarded the British Council IELTS Prep gift set which includes: 1) The Offical Cambridge Guide to IELTS book, 2) 10,000 mAh power bank, and 3) USB with practice materials. Winners will be announced on 26 October through our Facebook page.  We will also get in touch with you to inform you and ask for shipping details. Prizes will be despatched within 10 working days after announcement.  If details have not been received within 10 days, prize will be forefeited.
4. Applicable only to those currently residing in the Philippines (mailing address should be in the Philippines) and must not be employed by the British Council.
Terms and conditions:
It is a condition precedent for participation in the redemption that all test takers consent to the public disclosure of your names and other details as may be necessary in connection with the promotion.

While British Council will do their best to ensure timely delivery of the powerbank, the British Council will not be held responsible for any unsuccessful delivery due to invalid mailing address, lost courier, force majeure or any third party intervention. 

The British Council does not warrant the quality and performance of the courier delivery process and shall not be responsible for any consequence in connection with the promotion and/or redemption and thereafter.

The British Council reserves the sole and absolute right to withdraw, amend and/or alter any part of the whole terms and conditions in relation to this promotion at any time without giving any prior notice to the test takers and the test takers agree to be bound by those changes.

The British Council shall not be liable for any claims by the test takers or third-party claims or loses of any nature, including but not limited to, loss of profits, punitive, indirect, special, incidental, or consequential damages or for other damages and any related claims of any nature, including direct, indirect, third-part, consequential or other damages resulting from or in connection with this promotion.

In case of disputes, the decision of the British Council shall be final and conclusive.