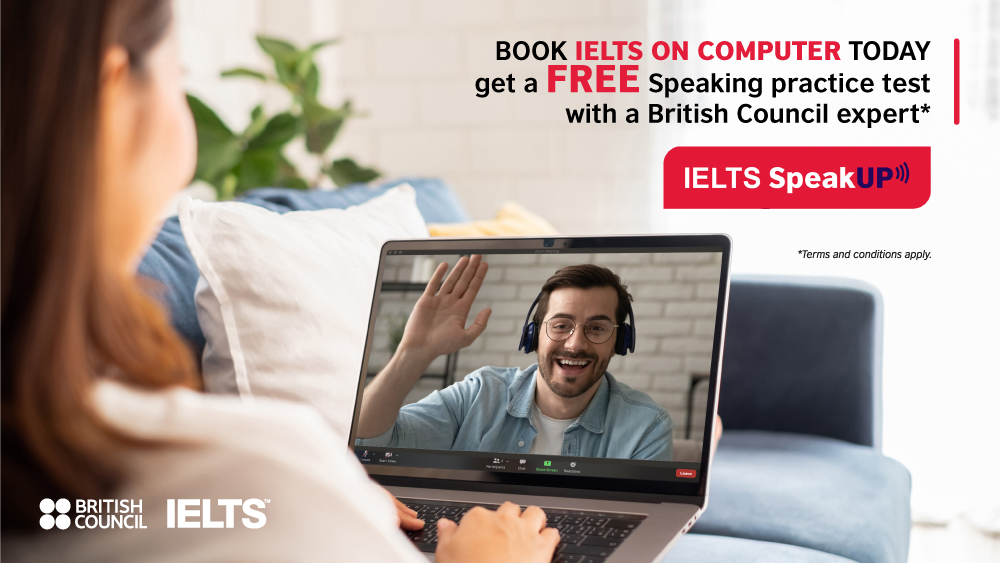 FREE LIMITED TIME OFFER* - Enjoy a FREE IELTS SpeakUP session (valued at PHP 2,099) when you register your IELTS on computer test with us. IELTS SpeakUP helps you better prepare for the IELTS Speaking test as you get instant personalised feedback and recommendations from our British Council IELTS experts.
Please note: To receive the IELTS SpeakUP free voucher, please tick the checkbox to indicate that you would like to receive updates from the British Council under 'Your marketing preferences' when you register for the IELTS test. Please be noted that you do not have to tick any checkboxes and if you do, you may unsubscribe from any option at any time. We will process your personal information based on your consents.
What is IELTS SpeakUP?
IELTS SpeakUP is an IELTS speaking practice opportunity developed and delivered by the British Council, a co-owner of IELTS. IELTS SpeakUP includes a one-on-one IELTS practice test with individual feedback and recommendations delivered by our IELTS experts to help you reach your target IELTS score.
IELTS SpeakUP is delivered online and lasts 30 minutes. Once you have shared your target score goal, you will take an IELTS practice test and then receive expert feedback. Although you will not receive a score on your performance, you will be given learning objectives to help you reach your target score based on the IELTS band descriptors, and the opportunity to ask our experts any questions you have about the speaking test.
Why IELTS SpeakUP?
A fully authentic IELTS speaking interview. Delivered by an IELTS expert, IELTS SpeakUP is designed to accurately reflect the live IELTS test and give you the best possible practice experience.
Expert guidance from the British Council, a co-owner of IELTS. With years of experience in language teaching and assessment and an in-depth knowledge of the IELTS test, IELTS SpeakUP experts are managed by the British Council using the same quality framework that assures the IELTS speaking test.
Tailored feedback and learning objectives. IELTS SpeakUP provides targeted feedback on your spoken English performance and recommendations to help you achieve your target score.
Ask our expert your burning questions about the IELTS speaking test.
What our test takers say about IELTS SpeakUP
"My British Council IELTS expert spoke to me using simpler English which I could easily understand, and offered me lots of useful and relevant advice." - British Council IELTS test taker, Korea
"IELTS SpeakUP is so practical! I can practise with a British Council IELTS expert and get personalised feedback on my speaking." - British Council IELTS test taker, Philippines
"After joining an IELTS SpeakUP session, I feel my speaking has improved. I am motivated to join more sessions." - British Council IELTS test taker, Indonesia
IELTS SpeakUP is delivered online and one 30-minute SpeakUP session with an IELTS expert costs PHP 2,099 (original price at PHP 2,499).