IELTS Webinars for Healthcare Professionals + IELTS SpeakUP voucher!

To help our healthcare workers prepare for and ace their IELTS test, we are now offering the IELTS Webinars for Healthcare Professionals.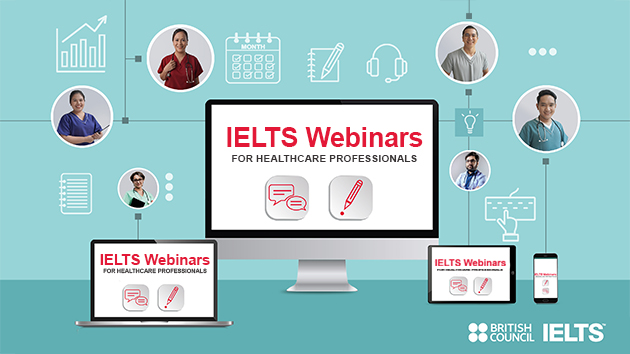 The IELTS Webinars is a series of exclusive webinars specifically developed  for healthcare professionals preparing to take the IELTS test. The sessions will be conducted every Friday and Saturday of July starting 10 July 2021 by certified IELTS experts who will cover specific topics that address the common challenges of our test takers. 
| | | |
| --- | --- | --- |
| Date | Time | Topic |
| Saturday     10 July 2021           | 5:00 pm - 6:30 pm         | Overview + Academic Reading |
| Friday         16 July 2021          | 5:00 pm - 6:30 pm   | Writing Task1: Graphs and Charts |
| Saturday     17 July 2021 | 5:00 pm - 6:30 pm      | Writing Task1: Maps and Processes |
| Friday         23 July 2021 | 5:00 pm - 6:30 pm | Writing Task 2: Overview |
| Saturday     24 July 2021 | 5:00 pm - 6:30 pm | Writing Task 2: Problems and Solutions |
| Friday         30 July 2021 | 5:00 pm - 6:30 pm | Speaking Overview: Test format and Assessment Criteria |
| Saturday    31 July 2021 | 5:00 pm - 6:30 pm | Speaking Narratives in details |
| Friday         6 August 2021 | 5:00 pm - 6:30 pm | The Listening test + IELTS Study Pack |
The exclusive webinars allow for a more interactive discussion where you can get answers straight from international British Council IELTS experts. Attend all webinars and get:
  ✅ Deeper understanding on the different Wiritng tasks
  ✅ Detailed information on what examiners are rating in the Speaking test
  ✅ Practical tips for  Academic Reading and Listening
  ✅ Strategies to improve grammar and vocabulary
  ✅ Access to IELTS Study Pack which includes a detailed study plan and some practice tests for you.
---

FREE LIMITED TIME OFFER FOR IELTS ON COMPUTER - Enjoy a FREE IELTS SpeakUP session (valued at PHP 2,099) when you register your IELTS on computer test with us on or before 31 July 2021. IELTS SpeakUP helps you better prepare for the IELTS Speaking test as you get instant personalised feedback and recommendations from our British Council IELTS experts.
Click HERE to learn more about IELTS SpeakUP.
---

How to avail the free slot for the exclusive webinar:
1. Register for an IELTS test on paper or on computer in any of the sessions between 1 August to 31 December 2021 using the promo code IELTSHCW. By entering the promo code you are entitled to a slot in the exclusive weekly webinars. Don't know how to enter the promo code? Click here.
2. In the registration portal, enter the number of your valid PRC ID. For those who could not provide a valid PRC ID number, register for your test using any of the accepted valid IDs (Passport, SSS ID, UMID, GSIS ID).  You would also need to email your expired PRC ID or company ID (with current position) to PH_ManilaMarketing@britishcouncil.org along with other details such as: name, email, test date and candidate reference number. Use the subject: IELTSHCW
3. Confirmation of registration for the exclusive webinars and the details of the zoom webinar link will be sent to successful regsitrants via email within 48 hours after registration. Please check your inbox (including your junk mail) regularly.
4. The confirmation email includes a registration link to the zoom webinar. Complete the steps to reserve your slot.
Terms and Conditions:
1. Offer is applicable for IELTS registrations on paper or on computer, until 31 July 2021 for any test session between 1 August to 31 Decmber 2021.  This offer is not available for IELTS for UKVI and Life Skills tests. 
2. Offer is valid for registrations using the promo code (IELTSHCP) made directly with British Council Philippines or through our authorised registration centres. 
3.  This offer is not valid with any other offers and cannot be combined or repeated with any existing promotions organised by the British Council.
4. The British Council reserves the sole and absolute right to withdraw, amend and/or alrer any part of the whole terms and conditions in relation to this promotion at anytime without giving any prior notice to the test takers and the test takers agree to be bound by those changes.
5. The British Council shall not be liable for any claims by the test takers of third-party claims or losses of any nature, including but not limited to loss of profits, punitive, indirect, special, incidental, or consequential damages or for other damages and any related claims of any nature, including direct, indirect, third-party, consequential or other damages resulting from or in connection with this promotion.
6. In case of disputes, the decision of the British Council shall be final and conclusive.
Register for your IELTS test