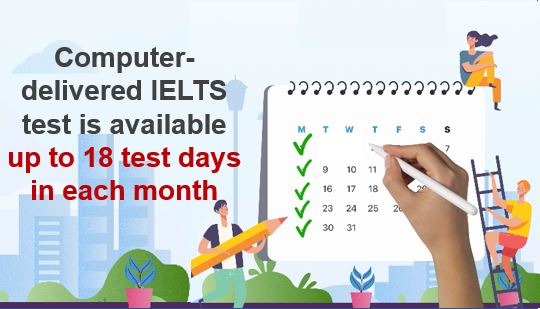 Our computer-delivered IELTS tests are available every Monday, Friday, Saturday and Sunday; up to 18 test days in each month for you to choose from! We understand that our test takers often struggle to find a suitable date and time to take their IELTS due to our everyday hectic schedule and lifestyle. Therefore, we want to offer you more convenience, more accessibility and more choices when you take your IELTS with us at the British Council. 

The computer-delivered IELTS offers you more choices and benefits:
Faster results – your IELTS results will be available in 3-5 days after the test
More flexibility – more test sessions to choose from everyday throughout the week 
More convenience – Speaking test timeslots available on the same day
More possibility – last-minute registration is feasible as registration will only close 3 days before the test date, subject to seats availability

Available for Academic and General Training tests
Get access to FREE preparation materials provided by British Council IELTS:
Practice tests – download free copies of practice test papers for the IELTS Academic and General Training module
Preparation videos – engaging videos to help you get tips and learn about the different criteria used during assessment
Access to Road to IELTS resources – with as many as 100 interactive exercises, 9 tutorial videos, and 2 practice tests for each of the four skills
Computer-delivered IELTS familisation test – experience the computer-delivered IELTS test system before you sit for the real test
IELTS online course (limited time offer)
Bi-monthly IELTS webinars by our IELTS experts, and more!
What you need to do:
Promotion is valid for computer-delivered IELTS only from now until 30 November 2020

You will receive a test confirmation email within five (5) working days upon successful test registration

To redeem your free IELTS preparation materials, please refer to your test confirmation email for the access link

To redeem your free IELTS power bank:
Please complete this form - 

CLICK HERE

Go to your test confirmation email and look for the reference code (Example: A3-MY001-S-2772073)

Enter the reference code into the 'reference code' box

Please ensure you enter a valid reference code

Please enter 

"CDI power bank"

 into the 'Promo code' box

You will receive the IELTS power bank at the test venue on your test day
>> Read the terms and conditions
>> Click here to sign-up for our free IELTS webinars by our IELTS expert
>> Click here to access our list of free IELTS preparation materials