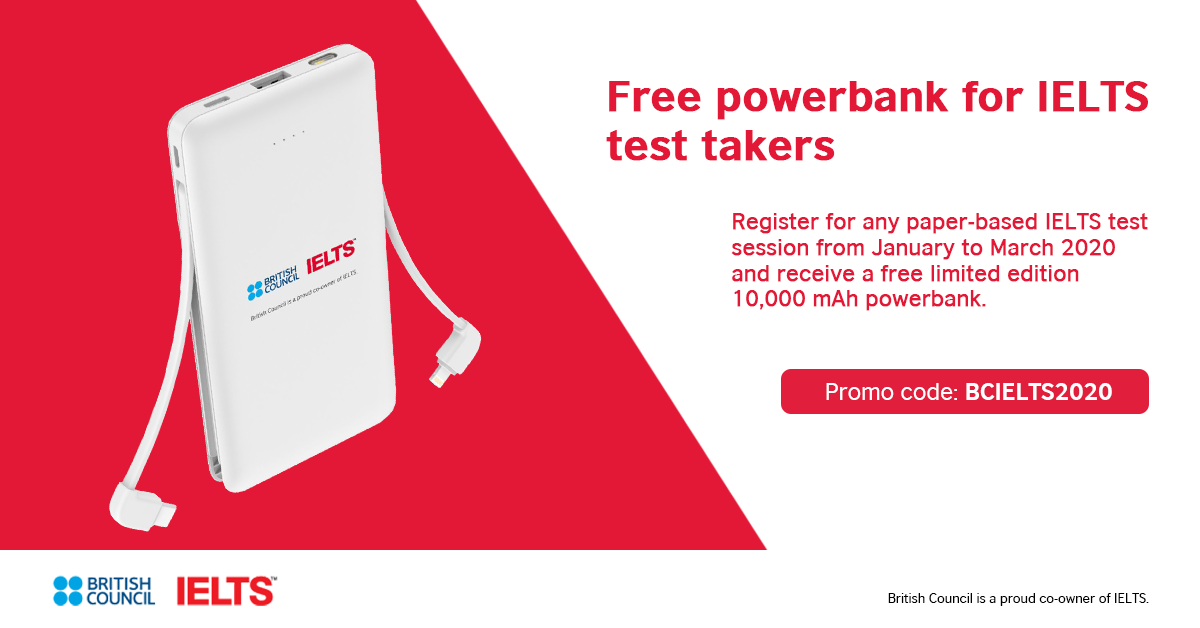 Let the British Council help you get to your destination! Get this limited edition British Council IELTS 10,000 mAh power bank when you book your IELTS test with us for any test session from January to March 2020.
Mechanics and Terms and Condition:
R

egister for a paper-based IELTS test within the promo period for any test session from 

January to March 2020

.
In the online registration form, enter the promo code:

BCIELTSPB2020

in the promotion code field which can be found on the 'Fill in optional data' page.

Once registration is completed, you will receive a notification from us confirming your eligibility to claim the promo bundle within 48 hours after validation. 

This promo is valid until 31 March 2020 only.

This promotion is not valid with any other promotions and cannot be combined or repeated with any existing promotions organised by British Council.

While British Council will do their best to ensure timely delivery of the powerbank, the British Council will not be held responsible for any unsuccessful delivery due to invalid mailing address, lost courier, force majeure or any third party intervention. 

The British Council does not warrant the quality and performance of the courier delivery process and shall not be responsible for any consequence in connection with the promotion and/or redemption and thereafter.

The British Council reserves the sole and absolute right to withdraw, amend and/or alter any part of the whole terms and conditions in relation to this promotion at any time without giving any prior notice to the test takers and the test takers agree to be bound by those changes.

The British Council shall not be liable for any claims by the test takers or third-party claims or loses of any nature, including but not limited to, loss of profits, punitive, indirect, special, incidental, or consequential damages or for other damages and any related claims of any nature, including direct, indirect, third-part, consequential or other damages resulting from or in connection with this promotion.

In case of disputes, the decision of the British Council shall be final and conclusive.
You may also take advantage of other exclusive British Council preparation offers.  To know more about this, click here.