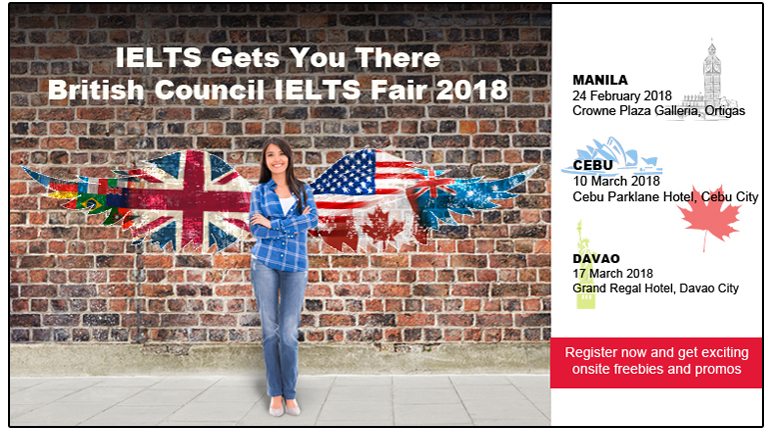 MANILA - 24 February 2018
CEBU - 10 March 2018
DAVAO - 17 March 2018
The IELTS Fair is an annual event of The British Council that brings together candidates who plan to study, work and migrate in English speaking countries. We aim to provide an opportunity for our test takers to know the opportunities created through IELTS.  
The theme for this year's IELTS Fair is "IELTS Gets You There", highlighting IELTS as everyone's passport for global opportunities for work, study or migration. On our third year, we are expanding our reach to two other cities outside Metro Manila – Cebu and Davao. We are bringing together review centres, education and immigration consultancies and recruitment firms to assist our IELTS candidates in their plans of landing in their dream country of destination.
What's in store for you? 
Meet our partner recruitment agencies and the work opportunities they offer abroad
Meet representatives from education agents and their partner universities abroad
Get to know IELTS review centres who can help you prepare for your IELTS test and their offers
Mini-seminars on the 4 components of the IELTS test (listening, reading, writing and speaking) 
Info sessions about studying in the UK, Australia and the US
Register your IELTS test on-site and get:
A raffle entry to win one of 2 one-way tickets to the UK via 

EMIRATES

*
Free IELTS Study (includes a notebook, pen and an IELTS USB with preparation materials)
Free IELTS Exceed Writing Workshop vouchers worth Php 2,200 
A raffle entry to win an IELTS Preparation book
*Winner may opt to change destination by coordinating directly with Emirates. Additional charges shall be shouldered by the winner.  Winner shall be drawn on 30 April 2018.
Programme
Time
Activities
Main Hall
Breakout Session
9:00
Registration
 
10:00
Ribbon cutting
 
10:15-10:30
Opening Programme
 
10:30-11:30
Plenary 1: Success Stories with IELTS
 
11:30-12:00
Break
12:00-12:30
Plenary 2: IELTS Listening

Study Abroad Info Session
12:30-1:00
1:00-1:30
Plenary 3: IELTS Reading
1:30-2:00
2:00-2:30
Break
2:30-3:00
Plenary 4: IELTS Speaking
Study in the UK
3:00-3:30
US as a destination / Study in the US
3:30-4:00
Plenary 5: IELTS Writing
 
4:00-4:30
Major Partner: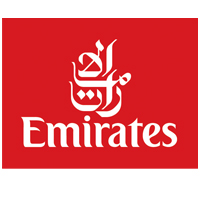 Participating Partners:


Media Partner: