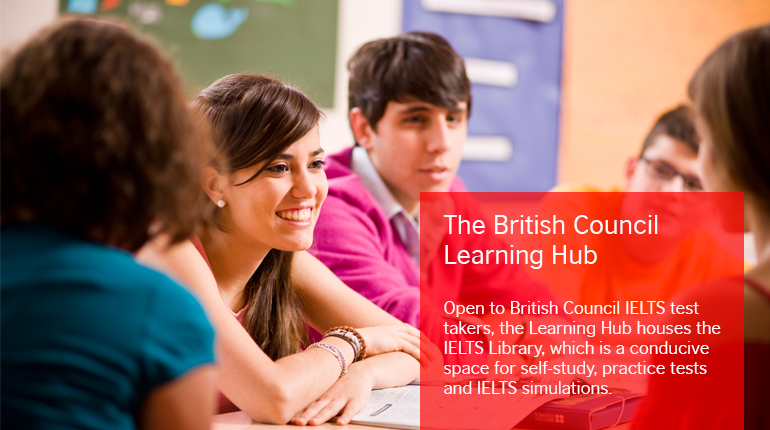 The British Council opens the doors to its new Learning Hub. 
Through the Learning Hub, we aim to provide high-quality and reliable services for test takers to achieve their best possible scores in the IELTS. The Learning Hub houses the IELTS Library, which is a conducive space for self-study, practice tests and IELTS simulations. Test takers can also take advantage of exclusive British Council workshops designed for specific audiences and needs and the latest review materials available. A top-notch test taker experience also awaits them at the Hub, blending technology with excellent customer service. 
Here are the exclusive offers available in the Learning Hub:
IELTS Orientation is a free 2-hour talk for those who plan to take the IELTS test.  This seminar provides attendees with an overview of the IELTS test, the different test sections and tips and techniques to achieve their desired band score.  The schedule of the monthly orientation can be found here.
IELTS One-day Preparation Workshops familiarises candidates with the test format, along with test-taking tips and techniques. The workshop takes a practical approach to learning covering all the test sections: Listening, Reading, Writing and Speaking.  This is open to both registered and non-registered test takers for a fee of Php 2,200. To register, click here.
IELTS Exceed Writing Workshops aim to assist IELTS test takers prepare for the writing test. Content was derived from an evidence-based research using writing task outputs of IELTS test takers in the Philippines.  This offer was developed by a group of British Council experts to address common mistakes in the writing component.  This is a free offer to all British Council IELTS-registered candidates. For more information, visit: www.ieltsasia.org/ph/events/ielts-exceed-writing-workshop.
IELTS Pretests are organised in partnership Cambridge Assessment English allows potential IELTS test takers to experience a simulation of the actual IELTS test.  Candidates answer sample questions under exam conditions and receive raw scores from IELTS examiners and markers.  Through the raw scores, candidates can have an idea about the test sections they need more work on and increase their confidence in taking the actual test. Book your test today and reserve a slot for the IELTS Pretest here.
IELTS Information Sessions, conducted through our network of partners aim to provide information to potential IELTS candidates about the different destinations where IELTS is recognised.  Details and steps on how to secure visa for work, study or immigration are discussed along with how IELTS can help candidates land their dream countries of destination. Stay tuned for updates on the Information Sessions schedule.
IELTS Library houses a full shelf of IELTS books, practise test materials, audio CDs, and other resources made available for British Council IELTS test takers.  Candidates are given unlilmited access to this library and may schedule their visit through our website. To schedule your visit, click on the button below.
Schedule your visit to the new Learning Hub through this LINK.