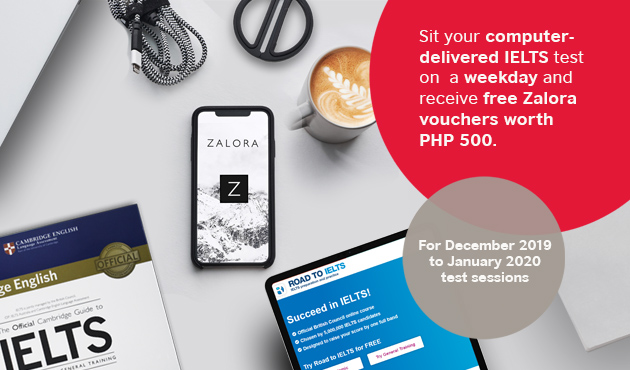 We know you have worked hard to get your desired IELTS score.  It's time you reward yourself for a job well done.  Receive PHP 500 worth of gift voucher from Zalora when you sit your test on a weekday (Monday to Friday). Take the computer-delivered IELTS test from December 2019 to January 2020 to qualify.
How to qualify for the promo:
Register for a computer delivered IELTS for any weekday session from December 2019 to January 2020.
After booking your test, register here to receive the voucher. Your registration will be validated within 48 hours.  Once confirmed, e-vouchers will be sent to you via email within 48 hours. 
Terms and Conditions:
Promo runs from 1 December 2019 to 26 January 2020.

This promotion is not valid with any other promotions and cannot be combined or repeated with any existing promotions organised by British Council.

The British Council reserves the sole and absolute right to withdraw, amend and/or alter any part of the whole terms and conditions in relation to this promotion at any time without giving any prior notice to the test takers and the test takers agree to be bound by those changes.

The British Council shall not be liable for any claims by the test takers or third-party claims or loses of any nature, including but not limited to, loss of profits, punitive, indirect, special, incidental, or consequential damages or for other damages and any related claims of any nature, including direct, indirect, third-part, consequential or other damages resulting from or in connection with this promotion.

In case of disputes, the decision of the British Council shall be final and conclusive.